Glide your way to great abs with the revolutionary abdominal definer, the Ab Force Exercise Equipment! Stay in shape quickly using modern technology. The Ab Force Total Upper Body Solution, works more muscle groups and is more challenging.


| | |
| --- | --- |
| Ab Swing | ID Number: ESABSWNG-1 |
Currently Out of Stock
The Ab Swing exercise equipment features the Ultimate Ab and Lean Body Design System. A revolutionary new swing-glide technology provides a gravity-based, variable resistance exercise, working the abdominal region by contracting the muscles from the bottom up, first the lower abs, then the upper abs, side obliques, all assisting in lower back strength, in just 5 minutes a day.
| | | |
| --- | --- | --- |
| Abtronic In Mail Order Box | ID Number: ESABT-6 | |
Your muscles are moving but you are not! Microprocessor controlled, 10 intensity levels and 6 exercise programs to choose from. The Abtronic also features the advanced Iron-Man program to deliver maximum results quickly, and a special Fat Blaster and Cellulite program.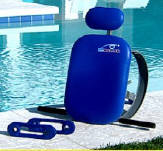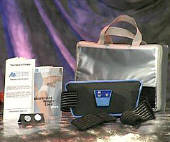 Bun & Thigh Roller in Mail Order Box
The Bun and Thigh Roller™ exercise equipment is a simple, fast, and easy way to tighten up your bun and thigh muscles. Get great looking buns and thighs with this unique easy exercise machine. Bun & Thigh Roller mimics the arcing motion of a Swiss ball. Its handles give you something to hold onto while the resistance bands sculpt the muscles in your buns and thighs while you are stretching them.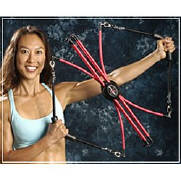 | | |
| --- | --- |
| Body Bow | ID Number: ESBODBOW-6 |
The Body Bow's unique design allows you to tone and firm your body while losing weight. Using the popular "Bow Technology", you'll obtain a strong chest and shoulders and enjoy sculpted arms, biceps, and triceps. Your abs and obliques will firm up and you'll notice your legs, calves, and thighs becoming more toned. Body Bow weighs just 4 pounds, you can easily take it wherever you go.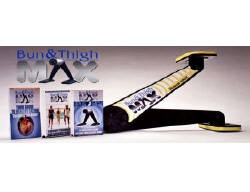 | | | |
| --- | --- | --- |
| Bun & Thigh Max In Mail Order Box | ID Number: ESBTM-3 | |
This unique, cutting-edge product shapes buns and thighs for a firmer, sexier figure. Sleek design and advanced technology make the
Bun and Thigh MAX
exercise equipment
one of the most effective and alluring fitness products on the market today.
This remarkable product exercises the inner and outer thighs, quadriceps, calves, buttocks, and hamstrings, giving you the buns and thighs youve always dreamed about.


| | | |
| --- | --- | --- |
| Igia Electrogym | ID Number: ESEG-12 | |
Electro-Gym is an electronic pulsating muscle massager that massages the abs, thighs, back, arms and other parts of your body you wish to target. You control the intensity levels and have a choice of 3 pre-programmed modes: Low, Medium & High. You will feel a pleasant, pulsing sensation.

Currently Out of Stock
For additional information on our exercise equipment including the Abforce, Ab swing, Abtronic, Bun & Thigh Roller, Body Bow, Bun & Thigh Max and Igia Electrogym, please email Gift Find Online at info@giftfindonline.com.
ORDER MORE THEN ONE, NO ADDITIONAL SHIPPING OR HANDLING CHARGES
ORDER MORE THEN ONE, NO ADDITIONAL SHIPPING OR HANDLING CHARGES
Gift Find Online provides you with quality products like the Exercise Equipment at a great price. Once you order your Exercise Equipment expect delivery within 5 to 7 business days. If you would like a tracking number for your Exercise Equipment please email us at info@giftfindonline.com .
To Pay For your Exercise Equipment by Credit Card
Click on the Add to Cart Button. Click on Secure Check Out. Click on If You Do Not Currently Have A Pay Pal Account. Follow the Directions for Paying by Credit Card.
Click Here for instructions on how To Pay For your Exercise Equipment by Check or Money Order
Some other great products from Gift Find Online