Red Bendel Bracelet, also called the Red String Bracelet
Made with authentic Red String from Israel.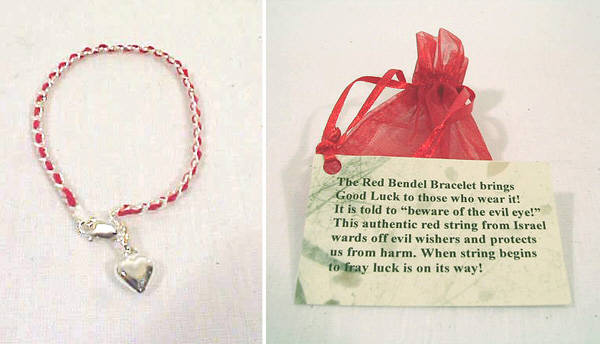 Product Description - The Red Bendel Bracelet - The Red Bendel Bracelet brings Good Luck to those who wear it!
The Red Bendel Bracelet is made with a traditional red bendel imported from Jerusalem and sterling silver chain and heart. Don't be fooled by cheap imitation Red Bendel Bracelets, these are the originals made with the finest quality material.
7 inch Red Bendel Bracelet - $25.95
8 inch Red Bendel Bracelet - $25.95
10 inch Red Bendel Anklet - $33.95
6 inch Red Bendel Bracelet - $25.95
If you have any questions or need additional information regarding the our Jewelry or Red Bendel Bracelet or Red Bendel Anklet, you can contact us at info@giftfindonline.com
If you are interested in wholesale pricing for the Red Bendel Bracelet or the Red Bendel Anklet send us an email at info@giftfindonline.com or call 516-459-6161
Gioie.it is the world leading e-commerce company dedicated to the trade of italian jewelry through internet and catalog. Founded in 1967 in Valenza, the famous Italian city which is the undisputed world leader in the business of jewelry designed with precious stones, the Masini Group has grown over thirty-seven years of business establishing itself as one of the most respected industrial groups among Italian goldsmiths, assuming the leadership in the production of non-branded Italian jewelry. The Masini Group incorporates in Italy five production factories and a holding company, that handles marketing and administration, with offices in Alessandria, Caserta (Il Tari'), Castelletto, Luxembourg, Miami, Milan, Prague and Valenza, totaling a work force of 200 employees. Putting together state-of-the-art design by the creative staff and advanced technical innovations, the Masini Group creates made-in-Italy jewelry characterized by an unbeatable quality/price ratio, where the originality and exquisite finishes of the product are coupled with accessible prices. Gioie.it also selects the finest italian jewelry-makers in order to choose items created by the most skilled jewelry designers and master goldsmiths, working in the renowned jewelry districts of Valenza, Vicenza, Arezzo, Naples and Milan. Our creativity is expressed in thousands of styles, from classic to modern, from filigree to laser finishes, all realized in 8, 9, 14 and 18 carats gold or high-quality silver and masterfully set with the finest diamonds, garnets, topazes, pearls and cubic zirconia, all backed by a lifetime warranty. Thanks to agreements with our suppliers and our advanced computer systems, we ensure real-time availability of a stock of over 300,000 finished products.